The internet has become an essential part of our day-to-day lives. From sharing family pictures on social media, connecting with our kids using text messaging to attending trainings via webinars.
We use the internet on our desktop computers, tablets and mobile devices. Don't know how to fix something… Google it. Better yet, YouTube it. Someone else has figured it out and made a video to show you the way.
Some interesting facts on how large the internet is:
As of 2014, Google indexed 200 Terabytes of data (Google estimates that to be 0.004% of the total internet)
An average of 16 years of video is uploaded to YouTube every day (that's a lot of kitten videos)
 NOTE: Video content isn't indexed by Google, rather the meta data like the title, description etc.
144.8 Billion emails are sent daily (89 B for business, and 55.8 B personal)
2.73 Million blog posts are published daily (including this one)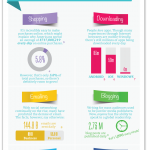 Website Magazine published an excellent article about the size of the internet. Check it out for more information. Awesome infographic created by UberFlip.
In addition to emailing, tweeting and blogging about our hobbies, all this technology is useful for business as well.
Don't know how your business can leverage Pinterest, Twitter, Facebook and Google to build your brand and increase sales? Good news, Right Place Media does! We do more than plan and implement traditional broadcast, radio and out of home marketing strategies for our national clients.
For more information on how you can better reach your target audience on the internet, contact Right Place Media today.