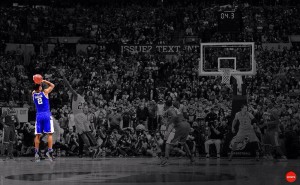 The 2014 NCAA Men's Basketball Tournament has seen its fair share of amazing shots, comeback victories, and devastating losses. This is what March was made for though, the uncertainty of every games outcome is what draws fans from all corners to tune into games that during the regular season they would not have. By watching the tournament in March victory is never certain but you are guaranteed to watch young student-athletes pour their hearts and soul into every game. Win or go home is the motto and it only adds to the drama. This year's tournament and Final Four in particular are very interesting not only from a sports fans perspective but also from that of an advertiser. Both of the Final Four games surpassed all previous viewer ratings in the history of basketball broadcast. Uconn-Florida was broadcast across 3 networks and grossed 11.7 million viewers and had an HH rating of 8.2.
The Kentucky-Wisconsin game became the most watched non-football sporting event in cable television history with 16.3 million viewers and an HH rating of 9.2. From 11:00- 11:30 PM the telecast peaked with 18.6 million viewers and an HH rating of 12.7.
It's not just television broadcast that has fans keeping up with the tournament though, the internet and social media have added an extra element to the fan experience. This Final Four registered more than 1 million hours of live video that fan streamed from their computers, tablets, and phones which is an increase of 37% from last year's Final Four. In this day and age it's easy to catch every minute of a game even if you're not sitting in your living room watching a television. Social media has also brought another dimension of fan hood, according to "Social Guide" the National-Semis tallied more than 1.8 million tweets which were seen by nearly 200 million followers which is a 36% from 2013.
From an advertising stand point an event like the NCAA tournament is a gold mine for viewers in almost any marketing demographic. The way I see it the best way to get a message across is by incorporating something that people are truly passionate about. Sports fans tend to have that passion for their teams and even their respective sports. As fans tune in tonight for one of the greatest sporting events in the world we will see the way technology has brought more and more people together through its various outlets to showcase the most talented student-athletes doing what they love. GO-CATS.